Musical Theatre (Show Biz Kids)
Cindy Wilson and Ryan Holihan are the current directors for our Show Biz Kids (TMR's musical theatre program) which helps children develop performance skills in theatre, dance & voice.  We also have dance coordinator Jamie Nadeau and music director Shannon Sharpe on our staff. All SBK classes are held on Monday afternoon/evenings.  Students participate in two theatrical productions every year. This year our winter performance is The Wizard of Oz on February 16-18, 2023 and our spring performance is Spongebob on June 16-18, 2023.
We also offer summer theater workshops. More information on our summer offerings will be posted after the first of the year.
Ages: 5 -18 years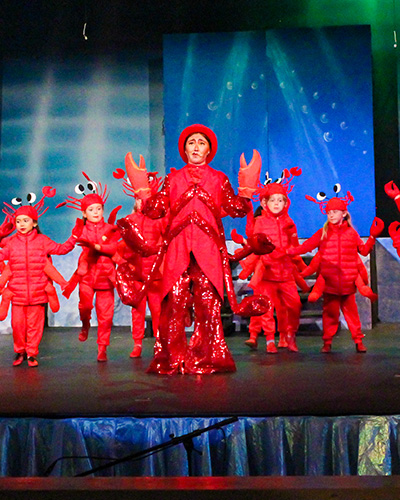 Every session; various levels
ABOUT Show Biz Kids @ TMR
For over three decades, our Show Biz Kids (SBK) students have participated in many classic and contemporary Broadway shows, including Into the Woods, The Wiz, Beauty and the Beast, Bye Bye Birdie, Fiddler on the Roof, 42nd Street, The Sound of Music, Crazy for You, Seussical The Musical, Anything Goes, Good News, Thoroughly Modern Millie… and many others! Each of our productions is presented in a real theatrical venue, with beautiful sets and costumes…and a live musical ensemble!